LINKS TO OTHER SITES
We try to keep this list up to date and check that the sites listed are working correctly.
If a site continues to work incorrectly we may temporarily remove the entry until the error has been rectified.
GALLERIES
BANKSIDE GALLERYwww.banksidegallery.com
48 Hopton Street, London, SE1 9JHGallery of the Royal Watercolour Society and the Royal Society of Painter-Printmakers
BROOK GALLERY www.brookgallery.co.uk
Fore Street, Budleigh Salterton, Devon, EX9 6NH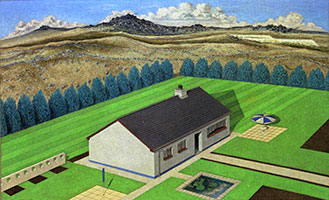 Pastel on paper & card
760mm x 460mm
(framed 1060mm x 4770mm)
'Cornish Bungalow', purchased by the Royal Cornwall Institution in 1991, was included in an exhibition arranged by the Bude Look Group at Bude Castle, Cornwall.

Click here to visit the Look Group's blog and then scroll down to see a short video by a group member and also Brian's comments on his picture written while at the exhibition.